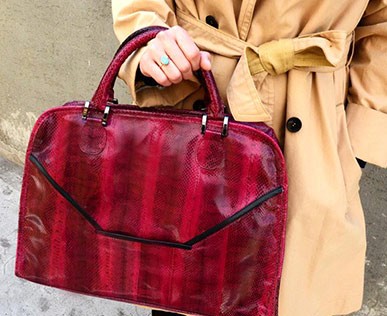 Our Favorite Bag Pairings
At Beirn, a company for women that's run by women, we design the collection with your lifestyle and body type in mind. When deciding on which bag to where with what outfit, consider the following:
What's The Occasion?
Small bags add a more sophisticated look while large bags create a more laid-back vibe. This is why we usually wear larger bags when we're casual and clutches or small bags when we head out for the night.
What are you doing today?
Shopping – The perfect look is an over-sized duffel or hobo bag that goes beautifully with sneakers, shorts, and t-shirts.
Working – Roomy tote bags are perfect if you wear a tailored outfit. A satchel or structured boxy bag can work too, particularly with high-waist trousers or skirt/cardigan combos and soft gauzy tops.
Statement dressing – Briefcase bags or top-handle tote bags will help you exude sophistication and will easily give you the lean and mean boardroom presence you want.
Cocktail dress/long gown – Clutches and miniature bags are ideal for formal and dressy events. You can also pair them with your favorite LBD. If your dress is embellished go with a simple bag. If it's simple and classic, you can pop your outfit with an expressive print, color or embellishment.
Body Shape
As with clothes, the length and shape of your bag can also accentuate your best features and help draw attention away from the parts of your body you don't particularly like.
If you're A Pear-Shaped, a bag that rests on your hip only make your hips look larger. To call attention to your slimmer middle, opt for waist-length bags instead.
Curvaceous Physique – Long, slim bags will make you appear slimmer and taller! For tall women with curves, low-hanging bags are the way to go.
A Tall and Thin Silhouette – Rounded, oversized bags are your best pick. Stay away from long, slim bags no matter what. And, to add a fab factor, go sleeveless or roll up your sleeves. The bag's size will contrast your toned and slim arms beautifully.
Plus Size – We feel that plus-sized ladies look amazing with medium sized bags.
How far do you take it?
For multi-colored outfits, better play with neutrals and single-color bags, such as beige or classic black. And, if you want a more playful and flirty note to your style, tie a slim scarf in the colors of the outfit you are wearing to your bag.
Finally, for printed outfits, the safest way is to choose a solid colored bag. Just pick a color from the print of your outfit and highlight it with the bag you wear. There is nothing more eye-pleasing and stylish than matching a printed dress with a printed bag. However, since marrying those two is not easy, it might be better to stick with a monochromatic bag!
Then there's the discussion on matching your shoes with your bag. Thankfully things have evolved in that department, although we do see many chic women follow that unwritten rule. We feel it's better to keep either the shoes or bag neutral and amp up the other. It will add to a more glamorous look and make you look more elegant and stylish.
Lastly, please pay attention to the hardware (if any), such as metallic details. The hardware on your shoes, your bag AND your jewelry should match.